George Emil Rohrer, Jr.
May 25, 1904 - February 14, 1953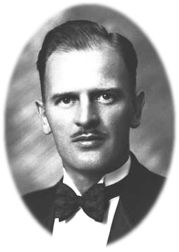 George E. Rohrer

Ciudad Bolivar,

Venezuela, 1934

I smile in utter disdain at the academic behaviorists. It took three in-depth readings of The Complete Psychological Works of Sigmund Freud, and a thousand other volumes as well, for me to understand. I successfully followed the owl into the darkness...

"The owl of Minerva spreads its wings only with the falling of the dusk."

G.W.F. Hegel
"Preface," Philosophy of Right

"By one of those dark pathways behind the official consciousness the old man's death has affected me deeply. I valued him highly, understood him very well, and with his peculiar mixture of deep wisdom and fantastic light-heartedness he had a significant effect on my life... I now feel quite uprooted."

Letter to Wilhelm Fliess
Sigmund Freud
November 2, 1896
Berggasse 19, Vienna

"For this book has a further subjective significance for me personally - a significance which I only grasped after I had completed it. It was, I found, a portion of my own self-analysis, my reaction to my father's death - that is to say, to the most important event, the most poignant loss, of a man's life. Having discovered that this was so, I felt unable to obliterate the traces of the experience."

The Interpretation of Dreams
Sigmund Freud
Preface to the Second Edition
Berchtesgaden, summer 1908
---
To open the following PDF files, Adobe Acrobat Reader must be installed on your computer. Please be patient; it may take a moment for these links to open completely before the files appear.
Read my memory and personal profile of my dad.
View photos of George Emil Rohrer Jr. (AKA George Emil Rohrer, George Emil Hildring Rohrer, (one L) George Hilldring Rohrer, and finally George H. Rohrer).
This proprietary section is reserved for in-depth genealogical research into the Rohrer, Gottlieb and Weber families. If you would like to assist with my project, I welcome your interest and help. E-mail me at marine@bobrohrer.com and I will provide the password to open this page.