Marine Corps Recruit Depot
Parris Island, SC
Read my Overview and Comments regarding
"Court-Martial at Parris Island - The Ribbon Creek Incident" by John C. Stevens III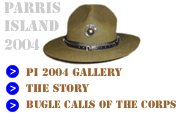 Open and read detailed descriptions of the below pictures!
Please be patient; it may take a moment for the file to completely download before appearing. To open this PDF, Adobe Acrobat Reader must be installed on your computer.
Point your cursor at a photo to read a brief description. Click a photo to see a larger picture in separate window.